NF-35G Glass Wall Flood Barrier
Robust and transparent glass flood wall permanent constructed with clear visual amenity
This Glass Wall Flood Barrier can provide the similar protection as our Demountable Flood Barrier, the only difference is that the transparent glass gives the zero visual intrusion to landscape and eye-view, and the full glass wall is permanently constructed with no further installation and deployment any more.
This Glass Flood Barrier with permanent structures is strongly recommended if quick deployment becomes a challenge for any reason on flood event. And it is also a minimal visual intrusion flood prevention solution for those protection areas such as the walkways along the river or lake, amazing beaches and elegant parks, requesting to retain the beautiful landscape.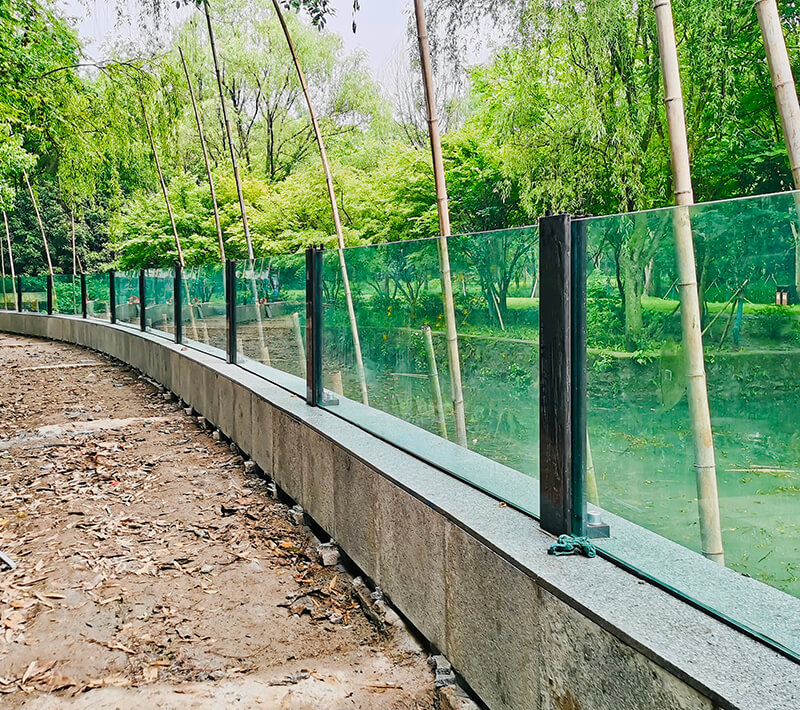 This extraordinary glass floodwall can be either mounted on top of a half-height foundation structure if required, or installed entirely freestanding on the ground to be a pedestrian barrier.
The max single span for this Flood Glazing can reach 3 meters, while the height can reach 1.2 meters, together with the pre-constructed concrete foundation, if any, the Glazing Flood Barrier gives the complete effective flood protecting height up to 2 meters.
By applying the same design on end posts and central post of our Removable Flood Barrier NF-35 series stop-log system, this glass wall actually gives a further extending ability against the threat of rising flood water because the additional aluminum barrier panel can be slide in sitting on top of the glass to increase the height of the whole flood wall.
Utilizing a combination of high quality laminated tempered structural glass in high strength, well engineered supporting posts in aluminum which can withstand the static and dynamic impact loads, robust anchor plate fixing to the foundation, and well designed watertight seals, this ultimate glass wall flood defence system is capable of fighting againt almost all flood condition.
Once this clear glass barrier is constructed, it requires no further maintenance but regular cleaning on surface. And if the glass is broken accidently, it will not harm the people or animal due to the unique character of safety glass, a simple replacement for the full piece of glass is very convenient to be achieved.
NEWFLAG Demountable Flood Barrier Advantages
Temporary Flood Barrier Specifications
MAX. EFFECTIVE FLOOD HEIGHT (EFH): 1.2 meters (concret foundation dam excluded.)
MATERIAL:
Side Post (6063-T6):
Height: Max. 1.35 m/ Section: T10.0*70*85mm/ Linear: 6.75Kg/m
Glass (Triple Layer Laminated Tempered Safety Glass):
T32*Max.H1200*Max.L3000mm
Density: 87.5Kg/m2
Central Post (6063-T5):
Height: Max. 1.35 m/ Section: T20.0*85*140mm/ Linear: 12.73Kg/m
SEALS:
Glass and posts: EPDM and sealants
Ground: PE/PU composed
COLOUR: for posts and glass frames only, in Anoidzed (Silver/Black)/ Powder Coated (White, Black,Grey)/ Heat Transfer (Wood Grain)
WEIGHT: EFH 1.2m*L 100m, it is 98.76kg/m2 (each span 2m)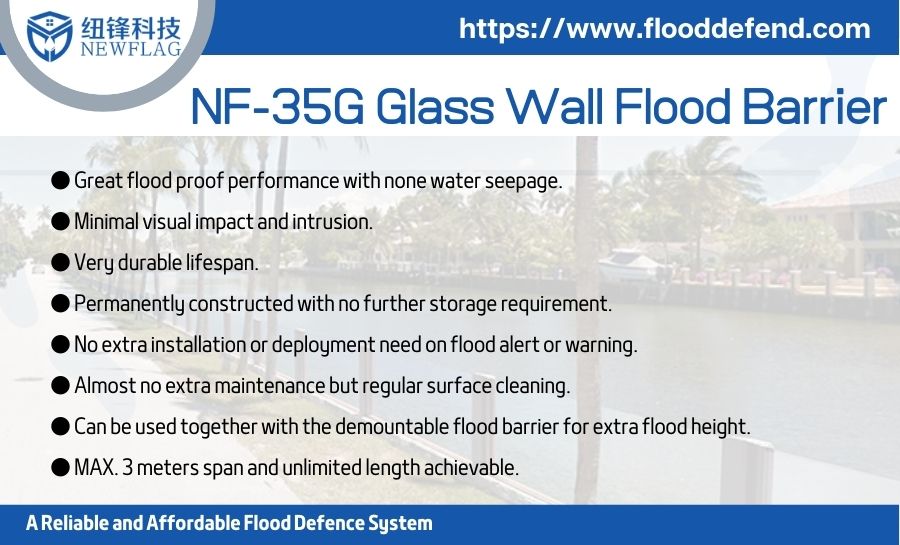 Related Demountable Flood Barriers